"There's a bullet in my head and it's really messing with my hairstyle…"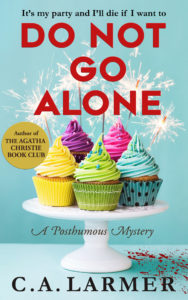 So begins the second in my Posthumous Mystery series. This time the victim is 20-something party girl Maisie May who really shouldn't be dead. There's a pool party going on and she's missing all the fun.
As Maisie hovers overhead watching her loved ones splash about, she begins to wonder: who hated her just enough to shoot her then return to the pool as if nothing has happened?
Can you help Maisie uncover a killer before the creepy dead people lurking by the tunnel convince her to cross?
This is a fun, light-hearted
whodunnit
with lots of dark humour and a heart-wrenching twist. It's a stand-alone mystery, the follow-up to my first Amazon best-selling Posthumous Mystery
Do Not Go Gentle
and is now
available
(see more links below).
But First—Did YOU Win a Free Copy?
Last newsletter I casually mentioned that I'd love to hear your feedback on the cover and there might even be a prize in it for you. A few of you emailed me back with some lovely thoughts—"awesome", "cute" and "DEathLICIOUS" were my favourite responses—so I'd like to thank the following subscribers with a free e-copy of my new book:
Linda M
,
Jackie T
and
Vicki & Q.
I'll be in touch soon.
In the meantime, here's how ALL my beloved subscribers can get their own copy of the book. Just click on a retailer below:
@Amazon
@iBooks
@nook
@kobo
@smashwords and elsewhere
Thanks, once again, for all your support. I do hope you love it, I hope you find time to review it, and I'd love to hear your thoughts. Feel free to
email
me back or subscribe to my newsletter for news, views, discounts and prizes:
calarmer.com
Happy reading everyone.
xo Christina